On Thursday night the club recognised one of our longest serving committee members, Elspeth Goodrick, thanking her for her time on the committee, and the many years during which has served as treasurer and auditor. Elspeth can't remember exactly how many years she has held these posts, but her time on the committee goes back the early 90s (she started young).


Rotorua Bridge Club is lucky to have the services of members like Elspeth, who work efficiently behind the scenes to ensure the club runs smoothly, and at this time as she is standing down, would like to show appreciation for all her hard work.
The Babich NZ Wide pairs is being held on Friday 2 November. We aim to start at 6.30pm with a light meal, nibbles and a free glass of wine. Bridge starts at 7.30pm. The same pre-dealt hands are played at all clubs. You need to come with a partner and you will receive a booklet at the end of play …
Congratulations to Ruth Lewis, who has very deservedly been named as NZ Bridge's Volunteer of the Month for August 2018.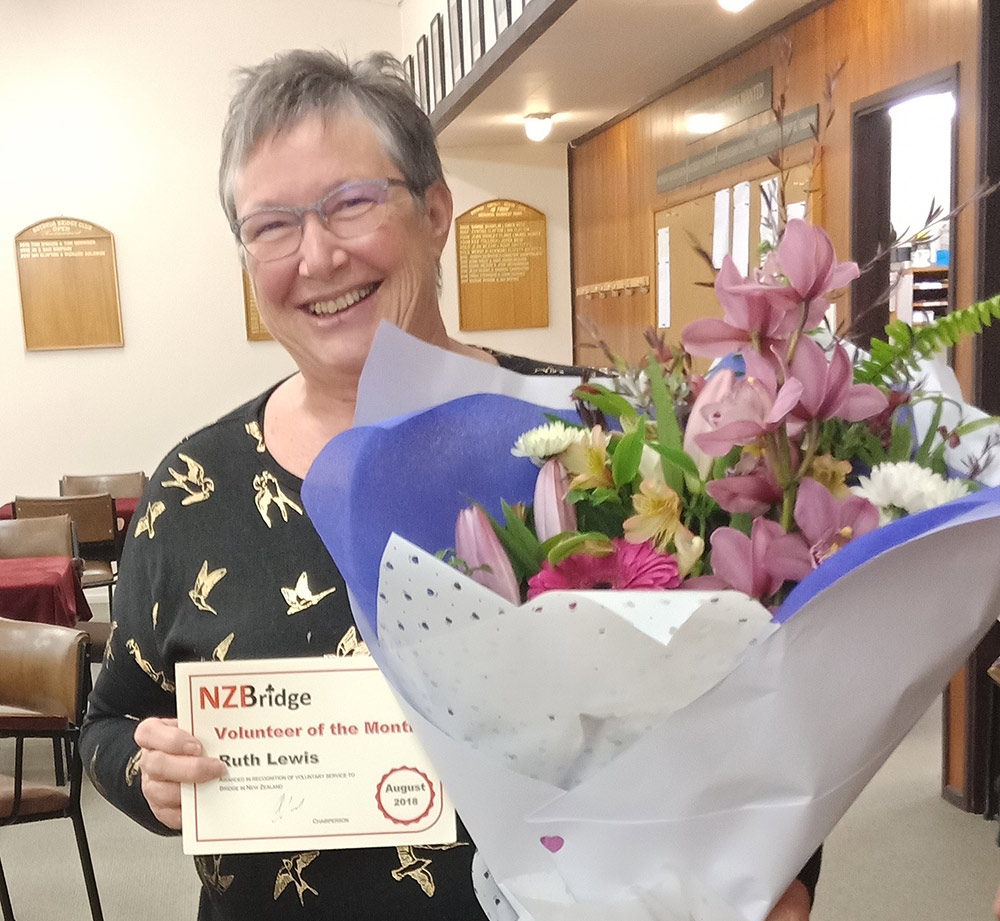 Ruth has been a member of the Rotorua Bridge Club for well over thirty years. During that time she was on the committee for nearly thirty years including two terms as President, has directed Wednesday night bridge and took the beginners' lessons for ten years.
Ruth is probably best known throughout the North Island as the organiser of Rotorua Bridge Club's Christmas tournament which had been extraordinarily popular for seventeen years. With her band of elves, they create a Christmas extravaganza which includes the finest Christmas quilts, glorious decorations, a delicious Christmas dinner and generous prizes. There is often a waiting list to fill the 39 tables available for players of all grades.
However, her quiet commitment to dealing boards for all the events at the club is remarkable. Week in week out, for approximately 14 years the boards are ready for each session regardless of whether Ruth is away on holiday or has family commitments.
It is people like Ruth Lewis who ensure a club functions well and has events of which we can be proud, so it is great that the club can show her some recognition in this way.