A very enjoyable day was had by all on Sunday, playing in the Ib Thulin Rotorua handicap tournament, for club members only. The event was won comfortably by our UK imports Chris and Angela Overton, with Neil and Mary Dravitski winning the raw competition. Neil and Mary were second on handicap with Margie Robbie and Marie Milsum coming third. Well done to all placegetters! A huge thanks to James Twist from Craig Investment Partners for their ongoing sponsorship.

Congratulations to Ruth Lewis, who has very deservedly been named as NZ Bridge's Volunteer of the Month for August 2018.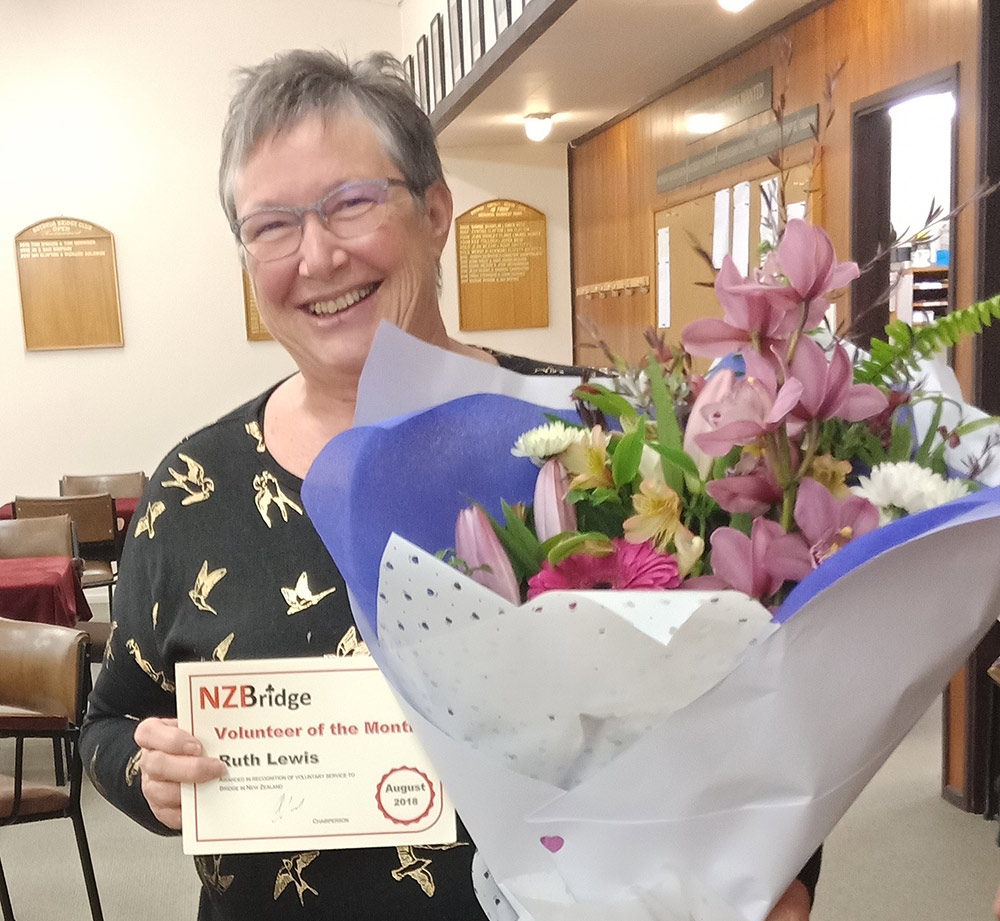 Ruth has been a member of the Rotorua Bridge Club for well over thirty years. During that time she was on the committee for nearly thirty years including two terms as President, has directed Wednesday night bridge and took the beginners' lessons for ten years.
Ruth is probably best known throughout the North Island as the organiser of Rotorua Bridge Club's Christmas tournament which had been extraordinarily popular for seventeen years. With her band of elves, they create a Christmas extravaganza which includes the finest Christmas quilts, glorious decorations, a delicious Christmas dinner and generous prizes. There is often a waiting list to fill the 39 tables available for players of all grades.
However, her quiet commitment to dealing boards for all the events at the club is remarkable. Week in week out, for approximately 14 years the boards are ready for each session regardless of whether Ruth is away on holiday or has family commitments.
It is people like Ruth Lewis who ensure a club functions well and has events of which we can be proud, so it is great that the club can show her some recognition in this way.
The BOP Interclub teams, played for the Ib Thulin Shield, took place on Saturday at Rotorua, and was a very enjoyable day. Six clubs from the Bay of Plenty took part – Rotorua, Tauranga, Mt Maunganui, Whakatane, Te Puke and Taupō, each with teams of Open, Intermediate and Junior players, thus giving players of varying experience the chance to represent …
Sixteen keen novice players from Rotorua took part in the first Mini Moos session in Morrinsville on Sunday July 1st. Players from our club showed their skill with Carola Gohring 1st, Mareli Esterhuysen 2nd, Sharon Wilkinson 5th and Douglas Paterson 6th.
Rotorua players showed a lot of flair in our recent Open Pairs although unfortunately the top prize eluded the local pairs. Wendy Blackman & Elspeth Goodrick won a session prize, as did Tom Henwood & Tom Winiata and Pam & Ian Moore. The top local pair were Pam & Ian Moore who were 3rd overall and won the Marg Angus …
Two keen Rotorua pairs headed to Te Awamutu Bridge Club on Saturday to play in their restricted tournament. Unfortunately, Neil and Mary took a wrong turning on the way over and arrived late.Then Colleen and Heini got lost on the way home adding an hour to their trip in the storm. In typical, positive Colleen style-she said she enjoyed the …
Mary's win in the Intermediate Teams in the Wellington Congress was made all the sweeter because she was not selected for the family team to play in it (Neil just made the cut with the lowest rating points in team), so she asked the organisers to pair her up to play in the intermediate section and they found a very compatible partner.
The flash family team started both competitions well but faded and finished in the top third but no prizes.
However Mary was made captain of her team and even though they had not met each other before they were leading narrowly going into the last round – four teams within four victory points.
Daughter Pam gave her the mantra ABCD (Alert, Bold, Confident & Disciplined) and she made a big contribution to their ultimate win with hand seven (see below).
She decided to upgrade her twenty one count from a natural two no trump to a game forcing two club. A three diamond response from partner showing seven plus points and five diamonds – then four clubs – one ace – five clubs – one king and (every imp counts) – six no trumps. On the lead of the ten of diamonds twelve tricks were cold after forcing out the ace of spades. Of the ten tables – only one other in six no trumps and one in six diamonds – the other seven including the other pair just in game so a 13 imp pick up and they won by just three imps.